Fourth Dementia Tour Dates
Janurary 25th, 2015
Julie and Marco are about to undertake a short tour of the east coast of the USA. They'll be joined by Pat Mastelotto and guitarist, Tim Motzer. With special guests Out of The Beardspace.
1/27— Gypsy Sally's, Washington DC
1/28— 8x10, Baltimore, MD
1/29— NJ Proghouse, Dunellen, NJ
1/30— Hard Rock Cafe, Philadelphia, PA
1/31— Spectrum, New York City, NY
julie slick + marco machera—le fil rouge—the next album
December 16th, 2014
after releasing our acclaimed debut record of bass duets, "fourth dementia", in july 2014, we (julie slick + marco machera) are ready to make the next step, and bring a whole lot of new music out to the world with our second full length release, "le fil rouge." but we need a little help from you, our dear friends. see, in order to deliver the best product possible (high quality mixing and mastering, special guests on the album, special care of the artwork design and packaging options) we require some additional financial backing. of course we have amazing rewards in store for those who will make their contribution.
obviously the cost to produce this album is way more than $100 (it's more like a couple thousand), but we wanted to assure you that we'd reach our goal, and therefore you are guaranteed to receive your rewards... so please keep this in mind as you invest!
thanks for taking the time to check out this campaign, and happy holidays!!!
love,
julie + marco
View Kickstarter Project
Julie's newest release, now available for pre-order (CDs) and immediate download!
July 24th, 2014
Pre-Order CDs or download "Fourth Dementia" now via BandCamp
New Album - "Fourth Dementia"
July 8th, 2014
Having met through the Three of a Perfect Pair Music Camp in 2010, bassists Julie Slick and Marco Machera started collaborating in April 2014, when Julie flew to Italy right after her Crimson ProjeKCt European tour, to play a short run of shows in Tuscany. Very spontaneously, some brand-new songs were written during a couple of days rehearsals and played to very appreciative Italian audiences. The impromptu 'bass duets' ended up being so satisfying and well-received that Julie and Marco eventually decided to write more material together and record an album. Nearly one month later, "
Fourth Dementia
" is completed: not the typical bass-dual project, the recording reinvents the role of solo electric bass and brilliantly displays the songwriting abilities of the duo; a captivating combination of loop music, ambient soundscapes and interlocking bass patterns, always melodic yet aggressive and edgy at times.
The bass guitar has a prominent role throughout the record, however more tracking was provided by acclaimed drummers Eric Slick and Pat Mastelotto, and violinist extraordinaire Sarah Anderson.
Download "Fourth Dementia" via BandCamp
upcoming tour dates
November 5th, 2013
Bandsintown
spry imp kickstarter
September 20th, 2013
"Terroir" Price Cut
September 18th, 2013
In honor of its digital release one year ago, I'm cutting the price on physical "Terroir" CDs by five whole smackaroos.
Happy shopping!
In other news, I'm happy to announce these upcoming FREE shows:
Sam Ash Clinics, featuring Pigtronix pedals:
Oct 1—Cerritos, CA—6PM
Oct 2—Hollywood, CA—6:30PM
Oct 3—City of Industry, CA—7PM
and with Springs:
Oct 9—Harvard and Stone—Los Angeles, CA
SPRINGS T-SHIRT
July 23rd, 2013
Hey, I made some tee shirts! Get your hot off-the-press Springs tee here!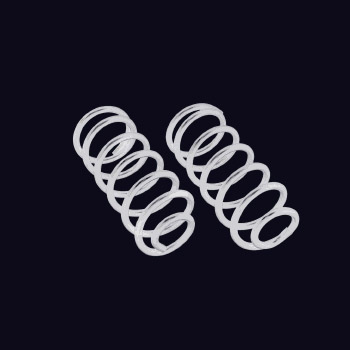 Upcoming Shows
June 25th, 2013
with Steve Taylor and special guests:
JUN 26—THE MINT—LOS ANGELES, CA—
TICKETS
with Bahner/Slick Duo:
JUL 5—SPRINGHOUSE SOUND—KING OF PRUSSIA, PA—
TICKETS
with Springs:
JUL 6—SPRINGHOUSE SOUND—KING OF PRUSSIA, PA—
TICKETS
JULY 7—IX—CHARLOTTESVILLE, VA
JULY 11—JAMMIN' JAVA—VIENNA, VA—
TICKETS
JULY 12—JOE SQUARED—BALTIMORE, MD—
TICKETS
JULY 13—1984—WILMINGTON, DE—
INFO
with Eric Slick on drums:
JULY 17—UNDERGROUND ARTS—PHILADELPHIA, PA—
TICKETS
JULY 18—MERCURY LOUNGE—MANHATTAN, NY—
TICKETS
JULY 19—BUSHWICK STARR—BROOKLYN, NY—
INFO
JULY 20—PA'S LOUNGE—BOSTON, MA—
TICKETS
JULY 21—SPRINGSTOCK—NORWICH, CT
New Live Dates Added
February 12th, 2013
with The Red Paintings:
FEB 14 THE GRIFFIN SAN DIEGO, CA TICKETS
FEB 19 ARTIFICE LAS VEGAS, NV TICKETS
FEB 20 THE ROXY THEATRE HOLLYWOOD, CA TICKETS
FEB 23 HOOD BAR PALM DESERT, CA

with THE CRIMSON PROJEKCT in JAPAN
Mar 15,16,17 Club Citta
Springs Album Release Show
January 10th, 2013
Springs has an album release show in LA January 25th at 8pm at Molly Malone's. $10 cover at the door and you can listen to the new album on BandCamp.
Welcome to the new julieslick.com
December 11th, 2012
Here she is! The world premier of "Terroir" – now available for download on bandcamp!!! Featuring Pat Mastelotto, David Torn, Steve Ball, Claire Wadsworth, Tim Motzer, Eric Slick, Marco Minnemann, Robbie "Seahag" Mangano, John Slywka, Todd Mecaughey, Adrian Belew, Rick Musallam, Dave Dickens, Carl Bahner, Mike Visser, and Noodle Theory. Mixed by Todd Mecaughey at Cambridge Sound Studios, and mastered by Mark Trewella at Full Circle Mastering. Design by Dejha Ti. Thank you so so much everybody! "Terroir" would not have been possible without you!
Limited Edition Terroir Posters
September 5th, 2012
***Special announcement***
The Terroir album design by Dejha Ti has been completed – and we're giving you a sneak preview! I'm excited beyond belief to share it with you… so excited, that I actually had some really high quality posters printed up. These will be VERY limited edition – 50 signed & numbered on 12w x 18h 80lb Silk cover stock. I'll be selling them at this weekend's house concerts with Tim Motzer (guitars) and Dejha Ti (live visuals). These will go fast, so buy your's now for $40 (plus shipping).